Johnny Raygun #3 - This issue features a SUPER AWESOME Ed McGuinness cover. Since we like to be BIG pains in the butt(s?) we also offer the FIRST EVER Ed McGuinness Sketch cover and to just throw one more at ya, Larry's Comics of Lowell, MA, commissioned us to do a special Red Sox tribute, BREAK THE CURSE issue. To make things even worse we decided to dub this issue, Just Ol' Plain, JOHNNY RAYGUN #3. No more quarterly. No more Special Edition. Plain and simple like we should have done from the start.
Check it all out below and we'll have autographed Ed McGuinness comics in the near future. Be sure to pick up Ed's JLA Classified. We've seen it and it is spectacular!

>> Store Home >> JR #6 >> JR #5 >> JR #4 >> JR #3
>> JR #2 >> JR #1 >> JR SE #1 >> JR Other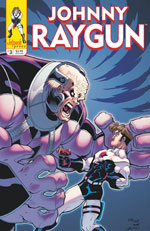 Johnny Raygun #3 - With a cover penciled by the one and only, Ed McGuinness, inked by our own Mischievous Matt Talbot and colored by Jumpin' John Rauch, you don't want to pass this issue by. Sure, Ed may be exclusive with DC but even super-star artists know that Johnny Raygun is the coolest agent in the galaxy, so he got a "Stay of Execution" to lend a Raygun hand.
Only $2.95 for 32 pages of fun filled Raygun action.
Ed McGuinness ltd Johnny Raygun #3 Cover art print
Available as a limited edition 11 x 17 full color PRINT
produced for THE COMIC BOOK SHOW. Shipped rolled in a tube!
Watch for signed copies of the print, coming soon.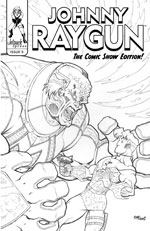 Johnny Raygun #3 Limited Edition Sketch Cover - Only Jetpack Press could produce the first Ed McGuinness sketch cover - how could we pass it by. Ed's pencils are so tight you may ask why we even bothered to ink it. So not only do we land DC's ace in the hole artist but we scoop them on his first Sketch cover. Limited to 500 copies and over 100 were gone before we got them in (that means only 400 left). Don't miss this sure fire collectible.
This $9.95 investment may be your eBay future!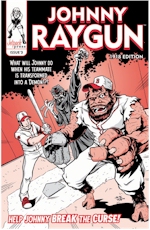 Larry's Comics "BREAK THE CURSE" Edition
Just as we were going to press with JR#3, Larry's Comics contacted us and asked if we could do a special commemorative Red Sox break the curse of the Bambino cover. Being the Sox fans that we are, how could we pass this up. Matt and Rich stepped up to the plate and produced this limited edition dual collectible. The Evil Empire has cast a spell on Johnny's Team Mate and transformed him into Johnny Demon. Can Johnny Raygun do his part to 'Break The Curse". We'll know later this week. This exclusive has brought tons of regional press to Johnny Raygun. 3 TV stations and a score of newspapers have had features on this cover. We're selling these for Larry's Comics, as he owns the entire print run. Help support the Red Sox and help Johnny Break the Curse. Interior stories are the same as the regular edition!
Larry is getting $9.95 for this 2 color baby. As seen on Channel 9, Channel 7 and the Fox 25 news as well as being the cover story for The Portsmouth Herald, appearing in the Boston Globe and the Boston Herald!!!