Johnny Raygun Quarterly #1 - This is the first issue of our ongoing Johnny Raygun series. Why did we call it Quarterly? Because in a perfect world it would be coming out quarterly and one day we would launch the regular Johnny Raygun series in full color, coming out monthly and blah, blah, blah. We're still searching for that perfect world. Please let us know if you find it.l

>> Store Home >> JR #6 >> JR #5 >> JR #4 >> JR #3
>> JR #2 >> JR #1 >> JR SE #1 >> JR Other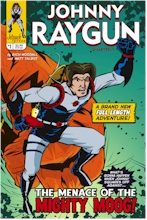 Johnny Raygun Quarterly #1 - The debut of Johnny's ongoing series don't miss this collector's item classic. This cover has a print run of only 2500 copies so you best order a dozen or so.
only 2.95 each - Wotta bargain!

All copies of Johnny Raygun come with a
super-futuristic poly-sleeve and a strengthening insert.


Johnny Raygun Quarterly #1




Johnny Raygun Quarterly #1 VIRGIN WHITE ALBUM
for only $4.95 you can sacrifice this as you like.

Johnny Raygun The Virgin White Album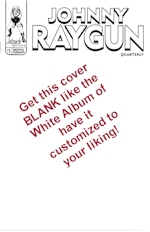 Commission your own original art cover - Matt and Rich will customize a copy of JRQ#1 The White Album, just for you.
Single character of your choice only $14.95 - be sure to email us whom you want us to pencil and ink!
1 figure commission
Two characters of your choice only $24.95 - Don't forget to email us the details!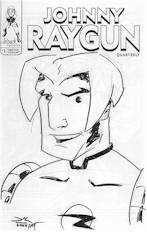 Johnny Raygun Quarterly #1 RETAILERS VARIANT SKETCH COVER - Originally offered to retailers as a variant incentive cover, this rare limited edition, ORIGINAL ART cover is now available to everyone. For a VERY low price you will own an original Rich Woodall pencil with Matt Talbot inks. Less than 500 of these special covers exist and, while all feature Johnny, no two are exactly the same.
Our supply is running low!
only $8.95 each for a piece of original art that adorns a comic book. Who could ask for more?
Johnny #1 retailers variant sketch cover